Post by Deucalion Lycaon on Jul 23, 2013 13:43:11 GMT -5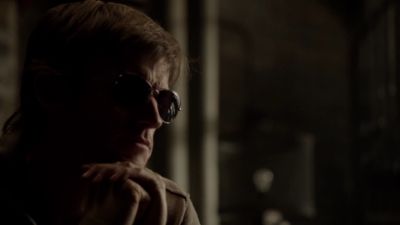 - - - - - - - - - -
a warning to the people, the good and the evil
this is war
- - - - - - - - - -
Problems were made to be solved and this equation was no different. Gerard needed to be subtracted from the picture and Deucalion was on full alert planning his downfall. The Alpha had already taken care of the twins, giving them their new objectives for their ride on the town. That left one of two pieces of a slightly compounded problem. The Argents needed to be stopped. There were two main components that kept them interfering even after all these years. One obviously was Gerard. The second was Chris. Chris was not so much of a threat as he was a meddler, dabbling in things he shouldn't know. With Gerard there as an enabler, he had already gleaned enough information to start predicting Deucalion's moves. While in the grand scheme of things it didn't matter, Deucalion didn't like competing on an even playing field.
That brought him to where he stood today. Things were seeming a bit fast-paced as of late. One moment he was conferring with an aspiring wolf, the next he was spreading new targets to his boys, and then already planning on killing Gerard. The mystifying part about the whole ordeal was that he wasn't even halfway done. He still had at least ten more moves planned and he was certain he'd have more tomorrow. Even now as he strolled down a suburban sidewalk, cane counting steps, he was thinking ahead to ideas he had regarding Scott. That boy was something else; A web of friends with talents far reaching and dabblings in both the Argent family and with the Hale pack, not to mention his affiliation with Deaton and the Kanima incident. He was one aspiring wolf that stood on a pedestal above the others.
But that was a topic for another time and place. Right now the focus was on Gerard and, now that he thought of it, it should have been the entire time. He wasn't one to be lead by driving emotions and feelings that could force him to make misteps and mistakes, but in this instance... Revenge had an eager place in his heart. Gerard had stole his sight and his dream of werewolves and humans coexisting peacefully and he was certain that the old man had done far worse before than steal the vision from peace. The world might actually be brighter once the lunatic fell.
Of course, there was the chance that the Earth turned darker instead - after all, Deucalion was set on conspiring with what he believed was a certified witch. Even though it seemed morbid, the Alpha was certain that, regardless of the outcome, Hayden would be one of the best for the job. If loyalty could be inspired there, he would have a hand in the Hale pack and would possibly provoke the eradication of one of the last threats to Deucalion in this world.
Stopping for a brief moment, Deucalion called on his wolvish nature, embracing an entire new level of power and violence for a brief couple of seconds to get a grasp of his surroundings. Doing so was risky - there was no doubt about it. If anyone saw him - well, if they were human they'd possibly pass it off as an hallucination - but if they were enemies to Deucalion's vision, they'd take his red eyes for what they were really seeking for: That he was actually looking around seeing even though he was supposedly blind.
And then there was the secondary risk - not quite so innately dangerous, but in a way even more so. Every time a werewolf relied so heavily on the wolf side to aid them, they stood the chance of letting the wolf's nature take over, even for just a moment. With restraints removed and the taint of a human's ethos, it was highly likely that a werewolf would tear its claws into whatever was close to it during that moment. Deucalion was no less prone to such a situation.
After the Alpha took a brief picture of his surroundings, he continued his journey forward, resuming his count of the steps. He was close now. Hayden was not far off. The weather was fair, a timid breeze cooled the air, and Deucelaion was confident this was going to go well. Naturally, there weren't very many things he
wasn't
confident about.
The sometimes-blind Alpha made his way slowly off the sidewalk and onto grass, taking in the change of atmosphere casually and without a change of pace. Several individuals walked by, and the sound of children at play rang in the distance. The park was a cornocopeia of what the rest of the world wasn't. Deucalion had tried to spread this sort of calm to all of the wolves, to make a truce with the hunters. But even there the true nature of the hunters was unveiled in a cruel old man, slaughtering his own people and butchering Deucalion's kind.
Maybe after today things could start taking a turn for the better. One could only hope. After all, there was a much greater enemy to fight and his pack didn't need to be squabbling with some petty hunters.
Deucalion counted another six paces and turned, taking a stride before sitting down in the middle of an unoccupied bench. The one he had come here to talk to was not far away and, from what Deucalion had gathered at a glance, he was coming in a path that would directly inercede past the bench.
The Alpha waited patiently, no rush, no hurry, he could plan everything else to pass the time. He didn't have to wait long before he picked up the near stranger's scent - and even less time before he picked up the motion of his feet, and then the rythm of his breath and his pulse. It was then that Deucalion spoke up.
"Excuse me, could I borrow a small portion of your time? I promise you'll appreciate what I have to say."
- - - - - - - - - -
from the right to the left we will fight to the death
to the edge of the earth, it's a brave new world
- - - - - - - - - -
WORDS``:
992
STATUS``:
COMPLETE
TAGGED``:
Hayden!

OUTFIT``:
i278.photobucket.com/albums/kk109/yuri12344/5ba03cd2-c862-4da6-bfb4-ac09c2f35208_zpsea765914.jpg
NOTES``:
Must... Resist... Editting....
LYRICS``:
this is war
by
thirty seconds to mars
CREDIT``:
this template was made by the amazing
TAYLYNOSAURUS REX!
of caution 2.0. if you erase this credit && she finds out then she'll either come && steal all your cookies or send you to the realm of eternal tickling: your choice.