Post by Isaac Lahey on May 17, 2013 1:44:45 GMT -5
werewolf- Daniel sharman - est - Dustin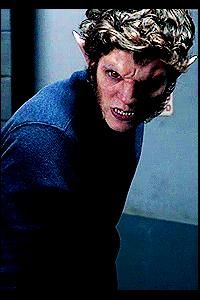 the basics.
get to know me a little
NICKNAMES
Ize, Zac, Lahey


AGE
Sixteen


BIRTHDATE
Feb 27th


SPECIES
Werewolf


POWERS AND ABILITIES
-enhanced strength
-enhanced speed
-enhanced agility
-heightened senses
-accelerated healing
-pain transference
-transformation


CHARACTER TYPE
Canon


LIKES
-Lacrosse
-Freedom
-Music
-Running
-Being able to smile
-Being a werewolf


DISLIKES
-Things that remind him of his father
-Thunderstorms
-Graveyards
-Hunters
-Being Helpless
-Being used


WEAKNESSES
-Memories of his father
-Impulsive
-Full Moons
-Silver
-Wolvesbane
-Mountain Ash
-Loud noises
-His pack and friends


STRENGTHS
-His loyalty
-Willing to try new things
-Not afraid to take risks
-He's smart
-Quick learner
-The pack


FEARS
-Dying
-His father returning
-Losing his friends
-Letting Derek down
-All of this being a dream
-Not being good enough


SECRETS
-Isaac shrinks away, and flinches, when he hears loud noises or flashing lights. Lightning and thunder being the worst.
-He spends most nights awake, suffering from nightmares of his father.
-He looks up to, and admires, Derek and wants to be like him.
-Sometimes, he wants to give in completely to his wolf in a fight but is afraid of the consequences.
-He isn't sure how to connect to people on a personal level, which is why he is often blunt or comes off as rude.
-Isaac has always been jealous of loving families, wishing he has what they have.



personality.
all about me

Isaac has always been afraid of making friends, of getting attached to people. He was afraid that the people of the world would be like his father. It was easier to go unnoticed than stick out, this way he would never get picked on. He wouldn't get targeted by bullies. Having to put up with his father was enough. However, sometimes he would get noticed and mocked by bullies. Isaac would just swallow and try to escape getting hurt.

That is a thing of the past now. Sure, he still hesitates before making friends, before talking to new people. However, his pack makes him a little more confident. He's no longer afraid to smile and be happy. Sure, he has a fear that it will all get taken away from him. He would rather be taken away from his pack and friends rather than have them taken away. He wouldn't be able to stand the loss.

Sure, Isaac is afraid to die. Who wouldn't be. However, he spent so many years being afraid to live that he doesn't want to miss out on all that life can offer: friends, family/pack, and more. He no longer stares at the ground when he walks, he can meet people's eyes. Just realizing this is powerful. It makes him smile when he realizes he actually has confidence for the first time in his life.

Sarcasm is lost on him, as are most jokes. He does have a sense of humor and does get most jokes thrown his way. However, it's clear when he is completely lost in a conversation. His face portrays his confusion well. Just like he smiles when nervous and stares at the ground. He tends to fidget while lying.



history.
this is the story of my life

Isaac was the second child born into the Lahey family. He easily went unnoticed, always overshadowed by his elder brother Camden. His mother was the light of his world, as his father focused more on his brother. His father was never a nice person, so Isaac tended to avoid him as much as he could. However, once his mother left his life, he was forced to interact with his intimidating father. Camden still took the spot light away from him, allowing him to be on friendly terms with kids his age and try to be a normal child.

Isaac didn't like when Camden wasn't around. He looked up to his brother who could do anything. Life just seemed to go downhill without him around. Heck, Isaac didn't even have time to mourn for his brother, his father never gave him a chance. Life was too crazy, the ground forever shaking as he tried to grasp onto something to keep him from falling. However, he always stumbled, always fell, because nothing he did could stop the punishments.

Joining lacrosse was more Ms. Morrell's idea than his own. His first parent-teacher conference of high school and she had told his father he should get involved in an activity to help him adapt better to high school, maybe make some friends. Isaac liked it, lacrosse that is. He liked that it kept him out of the house, and he was actually good at the sport. However, he was still pretty much invisible to those around him, even to his teammates. But he was fine with it. He didn't want to drag them into the world he lived in, allow them to disappoint him.

Isaac likes to think that someone sent Derek into his life, to make the nights spent in the freezer come to an end. He wasn't even afraid of the bite, afraid that it could kill him. Being afraid to die was better than being afraid to live. He would take his chances as a wolf. Perhaps it's his past that helped him most being a werewolf. Knowing pain all his life, he could handle what his new lifestyle would throw at him. Heck, he even found an anchor: freedom.

In truth, things were better as a wolf. He gained confidence, friends, a new family. Sure, being a fugitive wasn't fun, but he easily got over that. He could do without hunters and weird creatures like the Kanima. However, he knew life as a werewolf wasn't rainbows and unicorns, that he would have to learn how to survive. He was prepared.

For now, Isaac is waiting for what happens next. Living a pessimistic life, he has low hopes of it being anything good.