Post by Amalia Radley on Sept 9, 2013 22:53:25 GMT -5
Werewolf - Chloe Grace Moretz - EST - Dustin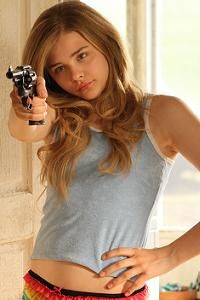 the basics.
get to know me a little
NICKNAMES
Ama, Molls, Mollie, Lia


AGE
16


BIRTHDATE
July 14th


SPECIES
Werewolf


POWERS AND ABILITIES
-enhanced strength
-enhanced speed
-enhanced agility
-heightened senses
-accelerated healing
-pain transference
-transformation
-Marksmanship skills (specialty is a gun)
-Tracking abilities
-First Aid
-Basic hand to hand combat skills (Mainly in self defense)


CHARACTER TYPE
original


LIKES
-Reading
-The outdoors
-Her dad
-Her family
-Puppies and kittens
-Reading
-Singing
-Listening to music
-Running
-Soccer
-Tennis
-Hanging out with friends


DISLIKES
-People keeping secrets from her
-Thunderstorms
-People talking about her behind her back
-Lying
-Feeling helpless
-Her father being away so often
-People making fun of the handicapped


WEAKNESSES
-Full Moons
-Silver
-Wolvesbane
-Mountain Ash
-Being a werewolf with a hunter father
-Her family


STRENGTHS
-Intelligent
-Determined
-Being a werewolf
-Having knowledge in weaponry and basic hand to hand combat
-Having a protective family
-Loyal
-Charismatic


FEARS
-Her father killing her if he finds out she's a werewolf.
-Losing her family.
-Something bad happening to her father.
-Spiders and bugs.
-The dark
-Heights
-Hurting people
-Failing her dad


SECRETS
-She has yet to tell her father or godparents that she's a werewolf.
-She has actually found her father's hunting journal, but can't bring herself to question him about it.
-She desperately wants to be close to her father but she can't get over her resentment that he was constantly missing from her life.
-She spent years learning skills she has yet to use and feels like she wasted so much time that could have been spent playing with other kids or her dolls. Especially when it comes to handling a gun or self defense.
-Although she acts like a tomboy, she desperately wants to be a little more girly. The type of girl boys like.



personality.
all about me

Mollie is a sweet girl with a gentle soul. She's forever cheerful and wears her heart on her sleeve. It's actually quite hard to hate her, as she's naturally a people pleaser. Some might think she tries too hard to cheer up others, but she really just dislikes people being upset. She spent too much of her childhood being sad that she believes it just takes up too much energy.

She greatly loves her godparents who have raised her. They're her image of a mother and father. They loved her like her own, which she cherished. She does, however, feel like raising her was the reason they never had kids of their own. They just simply claimed it was never in the cards so raising her was a gift. She cherishes the words because they're both gentle. And, for an ex-military, her god-father is simply a giant teddy bear.

When it comes to her father, Molls has mixed emotions. She cherishes him unconditionally. However, she still resents that he was never around. She can remember birthdays where all she got was a phone call. But it was still better than nothing. Better than not knowing where he was or what he was doing. So now that they're together, she doesn't want him to go. It has caused her to become a little too attached to her father.

She is the curious type and it does get her into trouble quite often. Her curiosity has led her to discover her father's hunting journal. It has caused her feelings towards her father to become a little more on the fearful side. Her slight resentment of what she is began to grow. She just wanted to be normal.

For all her sweetness, Mollie also has a temper that she tends to hide. It's vicious and more like a hurricane than a simple rain storm. It's violent and unforgiving. It's claws and barred teeth. It's yelling and throwing of objects. It's also tears and breakdowns. She's a storm of emotions when made mad, always going from one extreme to another. It would be best to avoid ticking her off, for everyone's sake. The rare occurrences when she is mad, nothing good ever came out of it.



history.
this is the story of my life

Amaila's true birth is one she isn't aware of. She isn't aware that she was born from a dead body. That the man she calls her father is actually her uncle. That her being a werewolf is actually due to being born to one. No. None of this is anything she is aware of. It's all things that Kasey has never wanted her to know.

Amalia believes her mother died in childbirth. It was too hard on her father, so he didn't keep any photos of her around. It never once struck her as odd, because even she doesn't like the topic regarding a mother figure. She'll sometimes talk about her godmother when people expect her to talk about her non-existent mother.

Growing up was hard for her. She rarely got to see her father and she could never understand it. She was raised by her godmother and godfather, both who loved her dearly. Their love was what kept her grounded. Full moons never bothered her due to just the fear of hurting them. She didn't want that. She wanted to protect them from things like her. Whatever she was.

She grew up keeping her hairy little secret to herself. Sometimes she wanted to tell her father when he actually appeared briefly in her life, but she never did. She just wanted to act like they were your normal family for five seconds, because he would be gone before she knew it. And she knew the look of pity well when her teachers would mention parent teacher conferences or would send them home at the end of the day. Her godmother was very busy working and it was hard on her godfather to actually get around. It left her to fend for herself and raise herself when her godparents fell short.

However, it's only more recently that the looks have ended. It's perhaps because she's genuinely happy. Her father has finally settled down in Beacon Hills. And as much as she loves her Godparents, she wanted to live with her father, give him reason to actually stay for good this time. But perhaps that is why she recently stumbled upon his hunting journal while trying to figure out what her father has been up to when he's not with her.

She's at a complete loss regarding it, but has decided to use it to her advantage. To figure out what's out there, besides herself. Find out why her dad has them in that book. And then figure out to where to go from there. But first, there's ensuring her dad never finds out she's one of those creatures written in that book. Which is easier said than done.